At the Health Technology Design group at Trinity College Dublin, we research, build and deploy systems to support mental health. The global pandemic of 2020 has rapidly accelerated the adoption of technology for the delivery of health services worldwide — underlining the potential of these systems to support care, while also highlighting the challenges of their design and deployment.
On this World Mental Health Day, we wanted to pick out one example of the work we have conducted in this space in recent years, spanning the theses of two generations of Ph.D. students. While much of our work involves designing and deploying innovative new systems, this work, published in Interacting with Computers this year, seeks to combine insights for the future development of mental health technology from two distinct fields of research, Computer Science and Psychology, by means of interdisciplinary narrative review.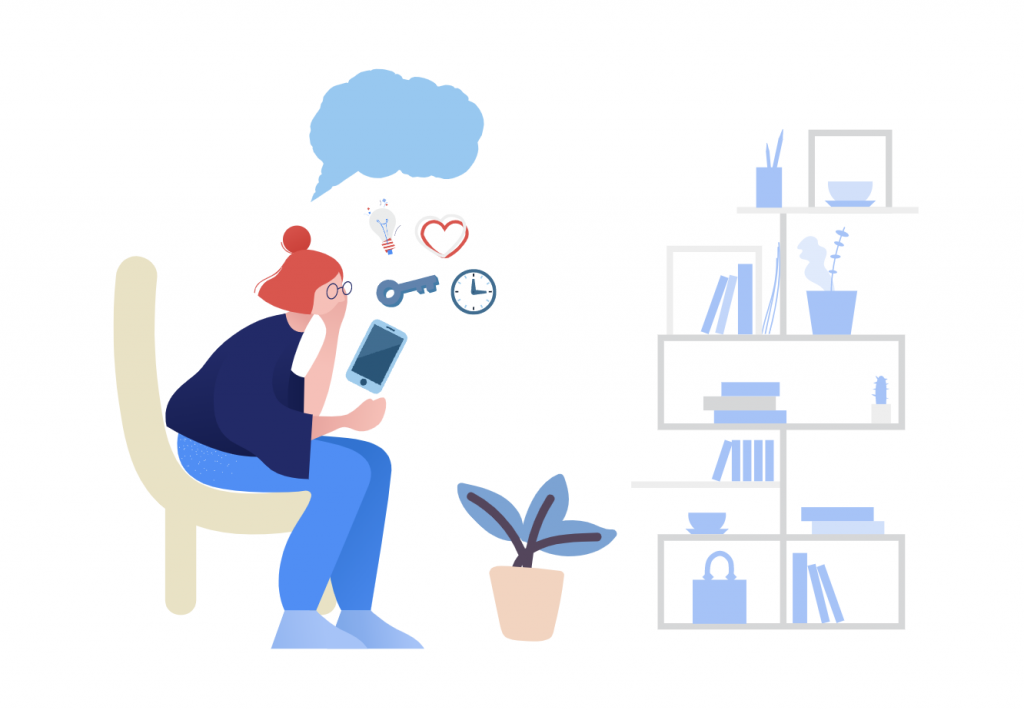 The now near-ubiquitous nature of a wide variety of personal technologies from mobile apps to smartwatches has made it easier than ever to obtain an understanding of our own, and others' experiences of daily life. This has opened up new avenues for research as well as new opportunities to understand and support mental health.
One particular class of technologies known as Ecological Momentary Assessment (EMA) systems have received particular attention in recent years. These are technologies which enable the self-report of experience in the moment of daily life by means of brief questionnaires as well as other more creative means of interaction. By enabling insight into our experiences as lived and reflected upon, mobile technologies have the potential to enable a richer understanding of our behaviors, our emotions, our selves, and of opportunities for effective care. And yet, the design and use of these systems is not without its challenges;
It has … long been claimed that mobile technologies are 'poised to become the most powerful form of media to influence clinical practice' (Rizvi et al., 2011), research and the design of technology itself. To date, however, the promise of EMA, and its technologies, stands at odds with the rate of their real-world deployment (Barrett & Barrett, 2001, Ebner-Priemer & Trull, 2009b, Stone et al., 1999, Trull & Ebner-Priemer, 2013). Significant barriers to the design and adoption of these systems remain.
As Human-Computer Interaction (HCI) researchers, we are committed to building technologies grounded in rich knowledge of patients' and health professionals' needs, values and experiences — while at the same time realising real-world action, reflection and change. These twin aims often result in tensions in the development of technology, which can only be navigated by recognising the role of design in shaping our experiences of technology and in turn the understanding these systems might generate. As we write;
An application for ADHD screening among teenagers which shares users' data with a healthcare professional is likely to result in very different reporting behaviours than a similar application designed to support self-awareness. Users may be motivated to avoid judgement or enable access to support services for example. These practices are shaped by design.
In order to grasp the extent of these challenges, and identify possible paths forward, we conducted a narrative literature review of the HCI and psychology literatures concerning the research and development of EMA systems. Drawing on a corpus of 342 papers, this paper presents a characterization of the EMA technology design space, as spans a diverse set of contexts, applications and use cases.
In this paper, we describe the options and strategies available to the EMA systems designer, with an eye towards supporting the design and deployment of mental health technologies for research and clinical practice — from technological solutions to the challenge of user engagement, to the appropriate design of sampling protocols, as well as discussion of recent trends, distinct modes of use and design, and opportunities for future work.
In concluding this work, we underline the ways in which designers of self-report technologies can and must attend to a wide variety of interconnected and competing values and concerns, including user engagement, reporting burden, data validity and honest disclosure;
The more technologies come to mediate our experiences, the more difficult it may become to extract meaningful insights with respect to their design without attending to the momentary experience of their use (Doherty & Doherty, 2018a).
At the Health Technology Design Group at Trinity College Dublin, we strive to continue to push the boundaries of the research and design of technology to support mental health; whether as a means of enabling access to care for women with depression during pregnancy, understanding the potential of machine learning to leverage new knowledge of patient-clinician communications, designing for technology acceptance, or engaging with the ethical challenges of data collection.
In designing technology, as in life, let us continue to strive to put the health and wellbeing of each other, and ourselves, first.
Take care,
Kevin Doherty & Andreas Balaskas